PRODUCT
Professional design, development and production of digital encoder, electronic switch and high and low voltage connector
Gold Silver Keyswitch

| | | | | | | | | |
| --- | --- | --- | --- | --- | --- | --- | --- | --- |
| Keyswitch | G series | Type | Total travel | Pre travel | Tactile travel | Operating force | Tactile force | Life |
| | TTC Gold silver Keyswitch | Linear speed keyswitch | 3.5mm | 1.4mm | None | 45gf | None | 80 Million |
| | | | | | | | | |
| --- | --- | --- | --- | --- | --- | --- | --- | --- |
| Keyswitch | G series | Type | Total travel | Pre travel | Tactile travel | Operating force | Tactile force | Life |
| | TTC Gold red Keyswitch | Linear keyswitch | 3.8mm | 1.8mm | None | 43gf | None | 80 Million |
| | | | | | | | | |
| --- | --- | --- | --- | --- | --- | --- | --- | --- |
| Keyswitch | G series | Type | Total travel | Pre travel | Tactile travel | Operating force | Tactile force | Life |
| | TTC Gold brown Keyswitch | tactile keyswitch | 3.8mm | 2.0mm | None | 45gf | None | 80 Million |
New material new mold TTC released Gold keyswitch professional pro series
On October 11, 2022, TTC officially released the Gold keyswitch Pro series. There will be three keyswitches for the first time, namely the Gold red keyswitch Pro, the Gold brown keyswitch Pro and the first Gold silver keyswitch.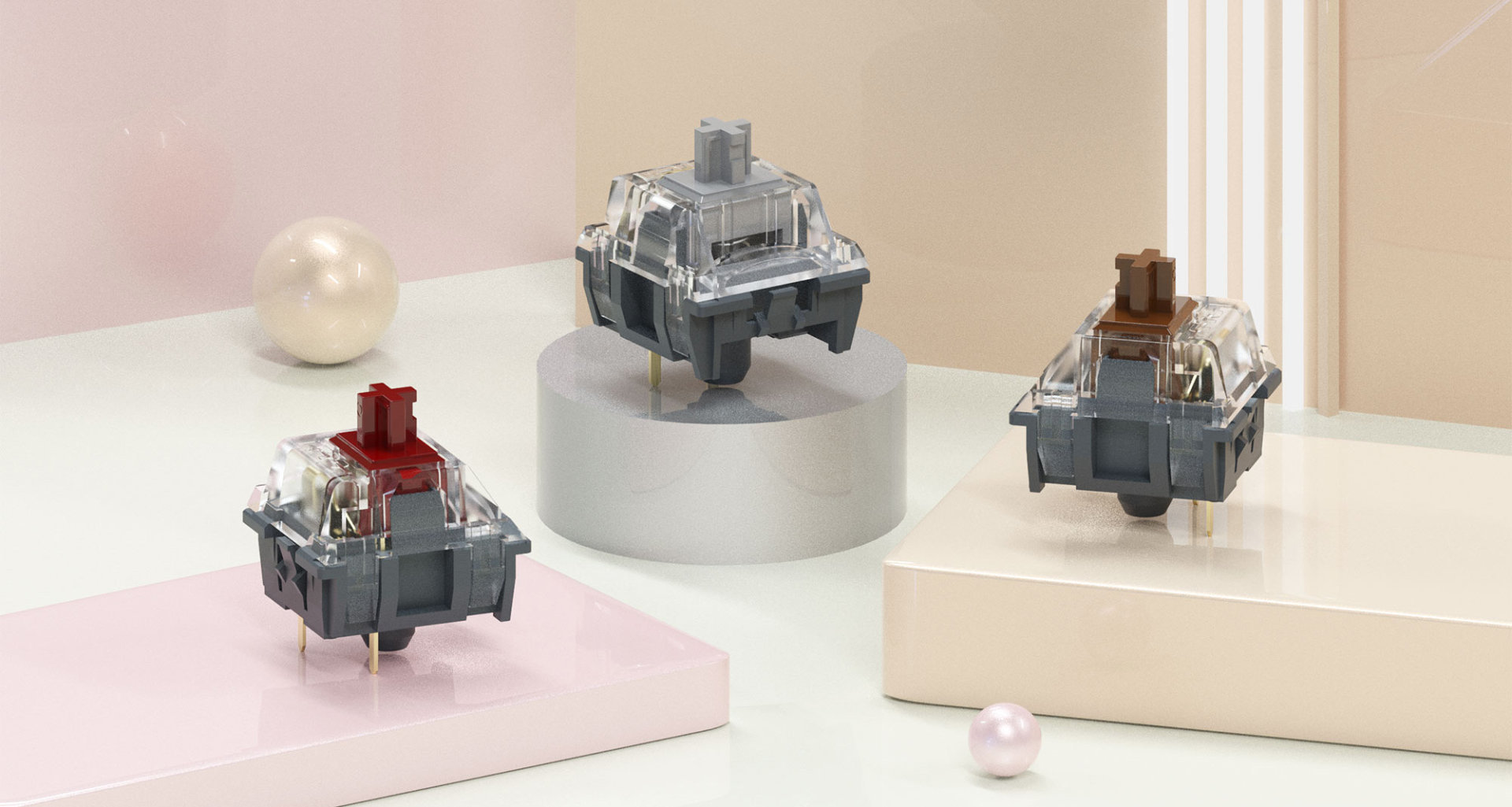 New keyswitch -TTC Gold silver keyswitch
TTC Gold silver keyswitch, for the first time in the Gold keyswitch series, uses 1.4mm pre-travel, 45gf operating force, compared with the traditional red keyswitch 2.0mm, Gold silver keyswitch has 30% earlier pre-tracel, the total travel of 3.5mm, compared with the traditional red keyswitch 4.0mm, reciprocating efficiency increased by more than 10%. Under the premise of ensuring quick trigger, reduce the risk of miscontact operation.

MACHENIKE KT68 three-mode hot-swappable mechanical keyboard
TTC Gold silver keyswitch keyboard cooperation brand will be launched by MACHENIKE and IQUNIX in China, and will be launched by ELECOM in Japan.
About the MACHENIKE
Founded in 2014, is an Internet brand manufacturer specializing in games, monitors, desktop computers and computer peripherals including keyboards, mice, gamepads, etc. Brand slogan: capricious play out of fan! Aims to create high quality, high experience degree, can play willful game equipment.
About IQUNIX
Founded in November 2014, it is a high-end peripheral brand focusing on desktop peripheral products. IQUNIX is a product-based company, from product ID design, material selection to function definition, continue to launch new products with brand characteristics.
About ELECOM
ELECOM was founded in Osaka, Japan in 1986. In March 2003, the turnover of ElecOM reached 27.5 billion yen, with a market share of 40%, and it became the largest computer parts manufacturing company in Japan. In July 2004, ELECOM officially settled in China.
With continuous innovation and unremitting pursuit, ELECOM's products meet consumers' realistic use needs and deep experience needs to the maximum extent. As soon as new products are introduced into the market, they become the "chasing" objects to attract the attention of consumers and the imitation objects of the market.
Enjoy silky smooth -TTC Gold Red keyswitch Pro
Red keyswitch is the origin of all linear keyswitch keyswitch, straight up straight down linear feel, suitable for most people habits, TTC Gold red keyswitch Pro, factory precision lubrication, using high precision mold with injection molding, product consistency is high, smooth and stable.

Tactile clarity -TTC Gold brown keyswitch Pro
Brown keyswitch is known as the "oil of all kinds" keyswitch. The rhythmic paragraph feel makes the mechanical keyboard more playable. TTC Gold brown keyswitch Pro, factory precision lubrication, clear and round touch, hand use.

About the TTC Gold keyswitch
The Golden keyswitch series was born in 2017, and was unveiled at the 2017 Computex Taipei.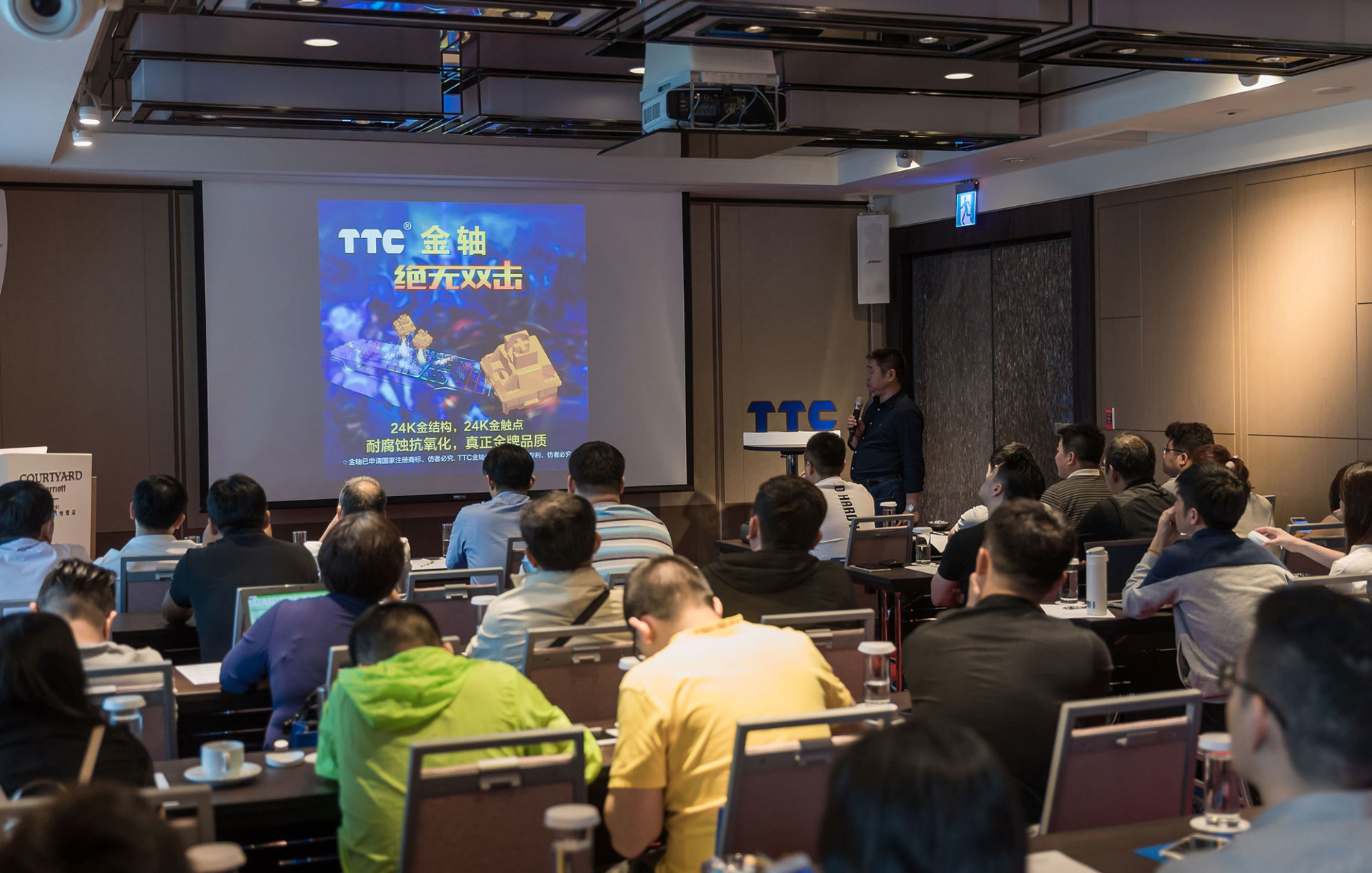 In May 2017, at Computex Taipei, TTC first released the Golden keyswitch series V1, which uses 24-karat Gold structure and 24-karat Gold contacts to create Gold quality.
In May 2019, at Computex Taipei, TTC released the upgraded version V2 of the Gold keyswitch, with technological innovation and ingenuity adjustment to improve the smoothness and press stability of the keyswitch body.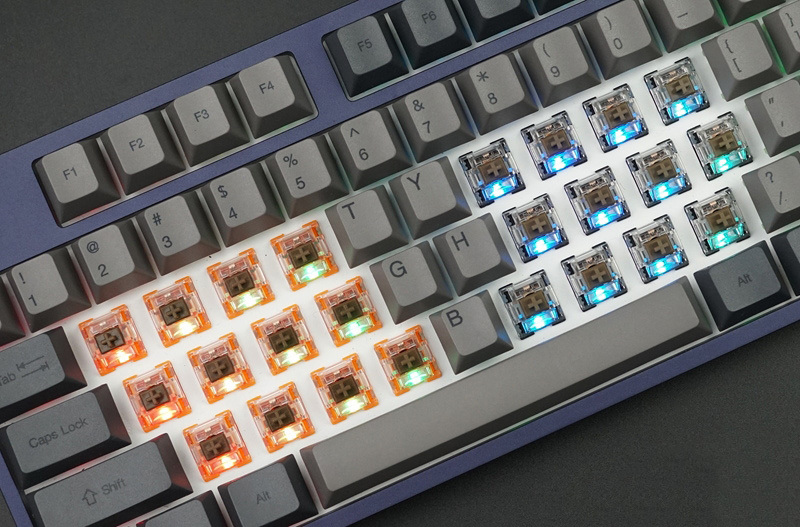 In November 2020, TTC released the upgraded version V3 of Gold keyswitch, which adopts high precision mold and comes with factory lubrication, greatly improving the feel and use experience of the keyswitch.
After two years, TTC launched the professional version PRO series of Gold keyswitch, using new materials and new molds, with precision lubrication factory, advocate a step in place, special for lazy people.
The new material
After more than a year of testing and verification, TTC Gold keyswitch pro series will be introduced into a new polymer composite material for the production of keyswitch core, both POM high wear characteristics, and both UPE flexible and smooth.
The new mold
In order to match the injection characteristics of the new material and ensure the injection accuracy, the Gold keyswitch Pro keyswitch core precision mold was redesigned, and the precision of the keyswitch core with the top cover and the base was improved, so as to effectively reduce the shaking of the pressing operation.
TTC Gold keyswitch professional edition PRO series, keyswitch core adopts new polymer composite material, the whole series adopts high precision mold, factory precision lubrication, product consistency is high, hand use.