PRODUCT
Professional design, development and production of digital encoder, electronic switch and high and low voltage connector
TTC Low-Profile Optical Keyswitch

Ingenuity made 100 million times super long life
Characteristics:
Good hand feel leading the industry
Using 24K gold contacts
Adopt spring material technology from NIPPON SEISEN Co., Ltd. of Japan
Corrosion resistance, fatigue resistance, oxidation resistance, lifespan up to 100 million times, true gold medal quality
| | | | | | | | |
| --- | --- | --- | --- | --- | --- | --- | --- |
| Shaft | Product name | Total travel | Conduction stroke | Conduction pressure | Paragraph stroke | Paragraph pressure | Specification |
| | TTC hybrid mechnical keyswitch | 4.0-0.3mm | 2.0±0.3mm | 45±10gf | no | 无no | KS4B |
| | TTC hybrid low-proflie keyswitch | 4.0-0.3mm | 2.0±0.3mm | 45±10gf | no | no | KT4B |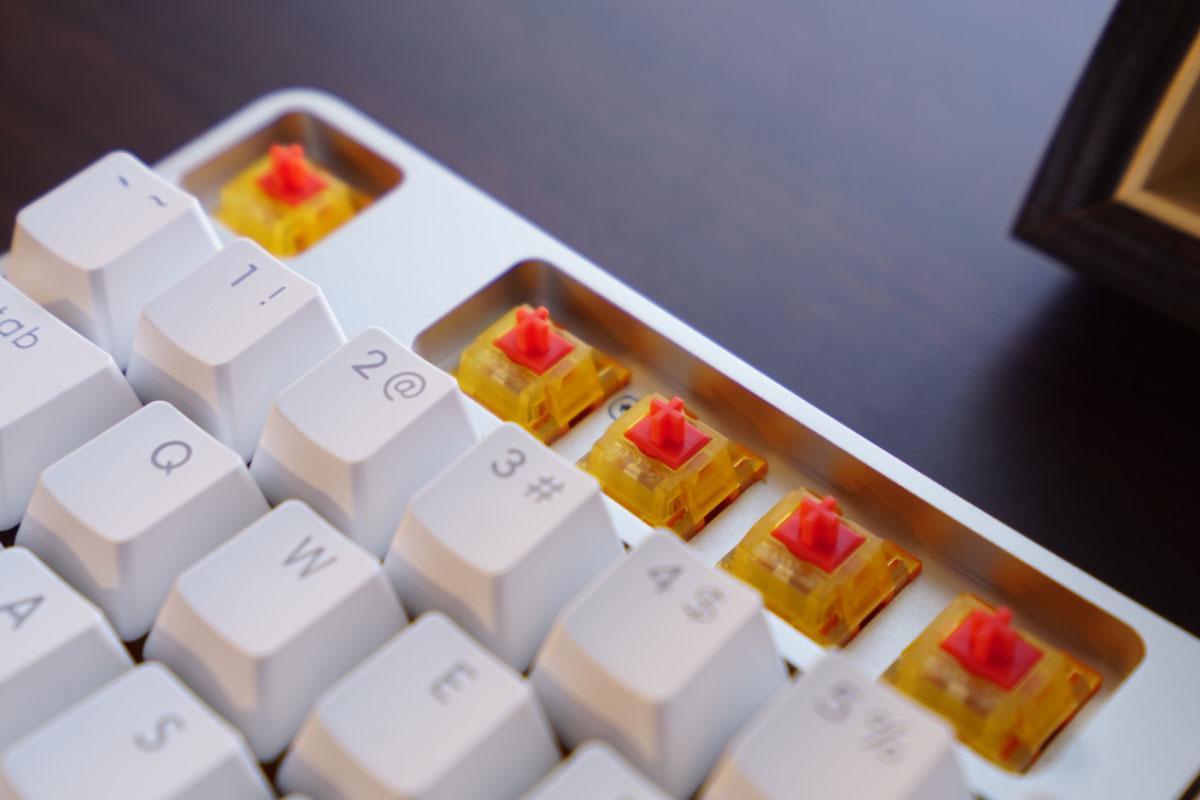 With the popularity of mechanical keyboards, most game players have more than one mechanical keyboard in their hands. Many advanced players are not satisfied with the existing unchanging mechanical axis feel, and have higher and higher requirements for the mechanical axis experience. TTC has launched the second-generation gold shaft. While maintaining the characteristics of the mechanical shaft, it greatly improves the smoothness of key operation and reduces the noise generated during the operation, thereby improving the user experience.
At the same time, using expensive 24k gold contacts:
After rigorous screening and testing of a variety of materials, TTC found that 24K gold is currently the most ideal material for making switch contacts. Gold is the most ductile and malleable metal, with high conductivity, high oxidation resistance and resistance to environmental corrosion (including resistance to other non-chlorine acids). Therefore, the application of gold to high-humidity, highly corrosive atmospheric electronic contact, and high failure rate contact point equipment has an irreplaceable role.
After research and development, design and application, the shaft body can not only support the user's high frequency use of the keyboard shaft body after using the gold contacts, but also has a more sensitive and reliable response than other contact shaft switches.
Good steel is used on the blade
Innovation is the foundation of TTC, and it is TTC's insatiable fanatical pursuit of products. In the process of R&D and design of the gold contact and gold structure of the shaft body, the test and screening of the internal spring structure materials of the shaft body are also being carried out, and finally it is decided to customize the latest spring material technology of NIPPON SEISEN Co., Ltd. of Japan. After testing, the spring made of this material has a good rebound effect, and the spring has very good fatigue resistance, which can greatly extend the stability of the shaft life and the freshness of the hand.
TTC Golden Shaft V2 and the existing mechanical shaft in shape and

They are all similar in size, compatible with those sold in the market

Keycap; 15.6 x 13.95 x 18.5mm (length x width x height)

Match with PCB size:
Quality and service

TUV TS16949 / ISO9001 / ISO14001 / OHSAS18001 certification
Quality

Deliver

Service

Price

Product through rate: <5000PPM

FQC sampling qualification rate: >98%

OQC shipment qualification rate: 100%

Monthly production capacity: 50m

L/T: 2 weeks

Expansion cycle: 25 days

Regular customer return visits

understand customer's needs

Return delivery within 24H

Respond to complaints within 4H

Can design and develop products according to customer requirements

Provide customers with market-competitive product prices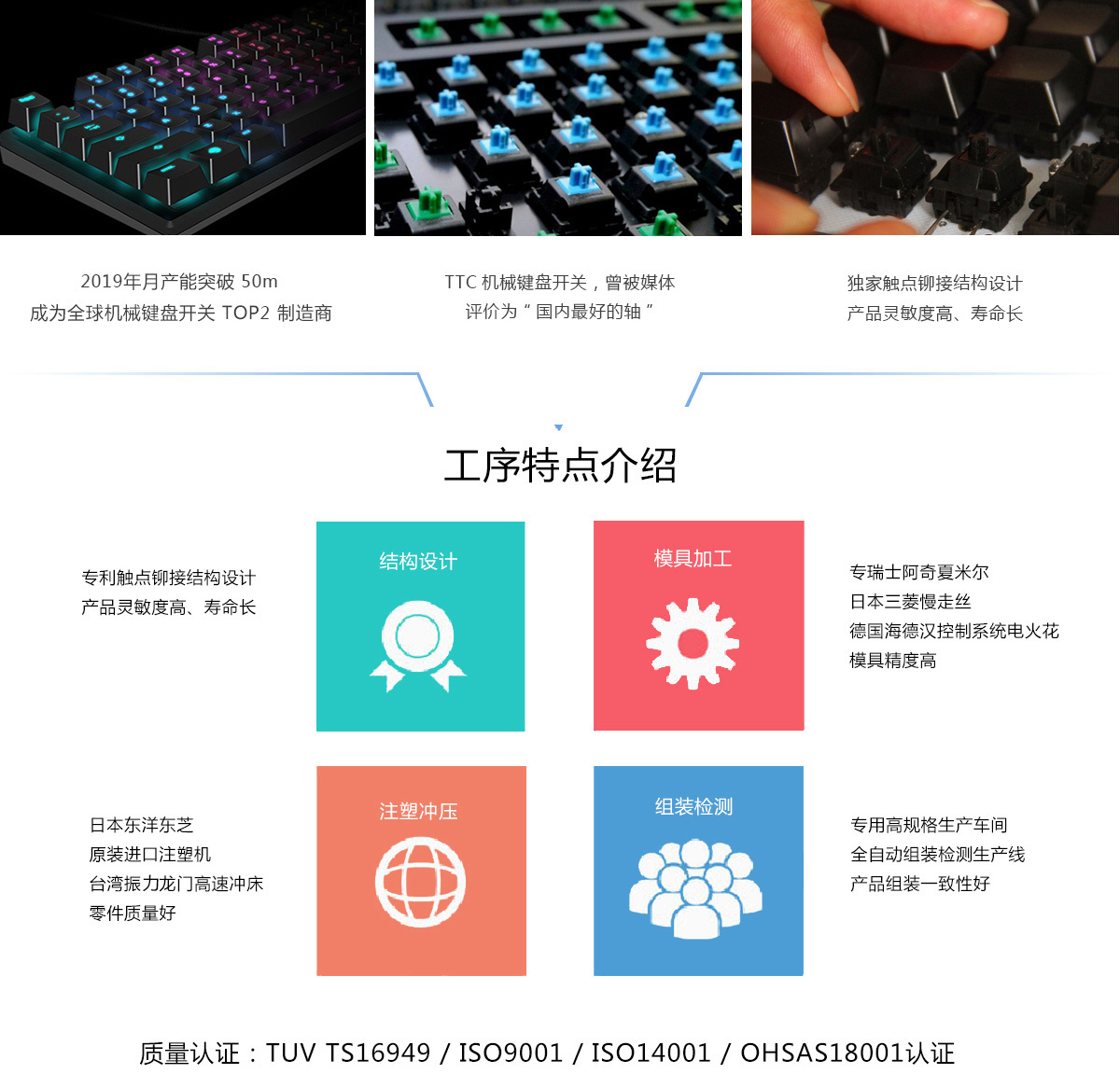 Future goals

Excellent partner of internationally renowned mechanical keyboard companies

Capacity

Customer service

TOP1

The monthly production capacity exceeds 100m

Expand production capacity in time according to customer needs

100% customer satisfaction

Delivered on time

Continue to provide competitive unit prices

Become the world's leading developer and manufacturer of keyboard switch sales
Continue to be an excellent partner of world-renowned peripheral brands