NEWS
Professional design, development and production of digital encoder, electronic switch and high and low voltage connector
Information classification >
TTC gold micro--24K gold quality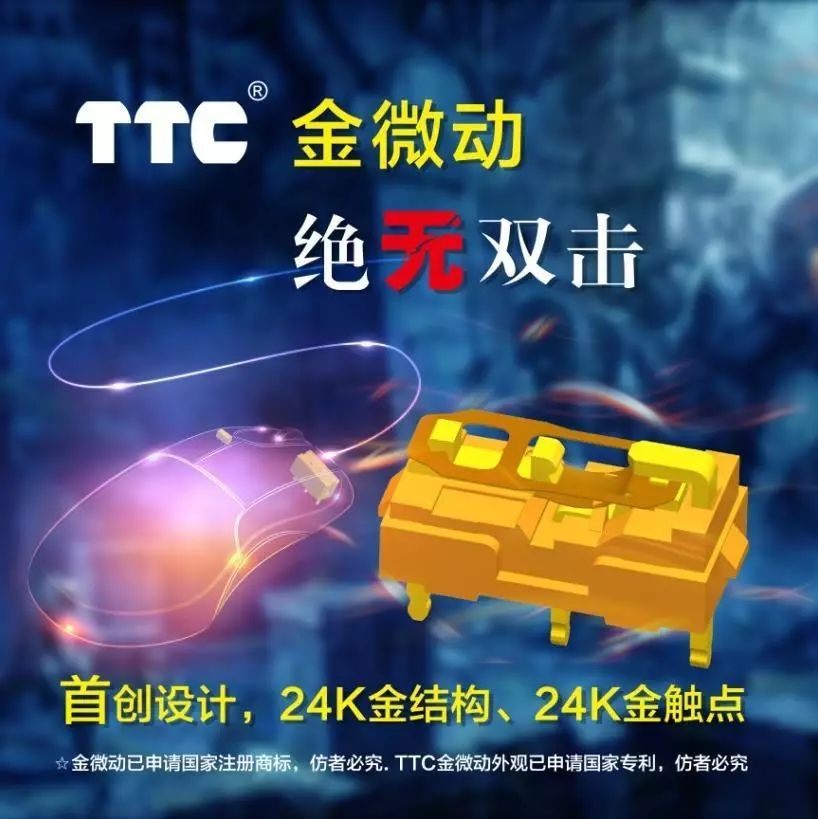 "Small Product University Question"
The mouse may be damaged after a period of use, mostly because of key failure or double click. Double click is the most afraid of, especially in esports game. The crucial factor for mouse sensitivity is the micro switch below the key.
How micro switch of mouse work?
Click the mouse button once, the metal reed contact in microswitch is touched once with the lower terminal (contact foot), and the circuit is connected and transfer one singnal to PC, then reset again and complete one click.
Seems simple mechanical action, actually with lots of knowledge, the slightest mistake in design can make a huge difference in product quality. For many players, they will get used to one mouse after a period of use, if this mouse appears key failure or double-click suddenly, it is not about money anymore, it means they have to get used to the hand feeling of new mouse. Isn't there a micro that can be with durable service, stability and long-period preservation of hand feeling? Therefore, TTC gold micro come out.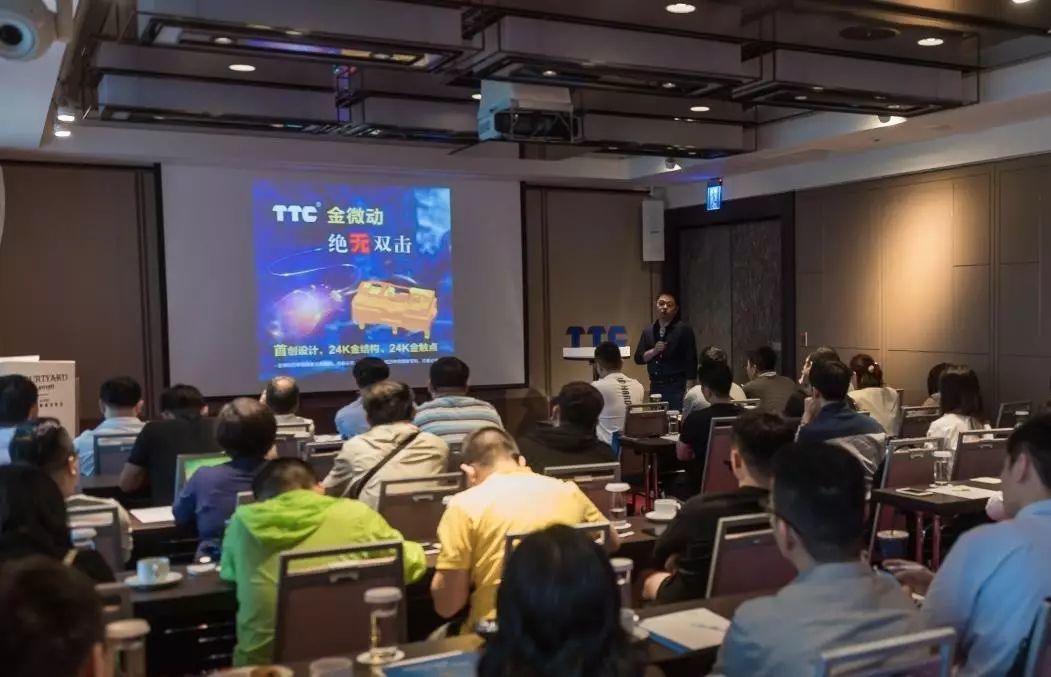 i.On May 31, 2017, TTC officially launched TTC Gold Micro at a VIP client and media meeting in Taipe What exactly this gold micro is, let's introduce this gold quality product in details as below.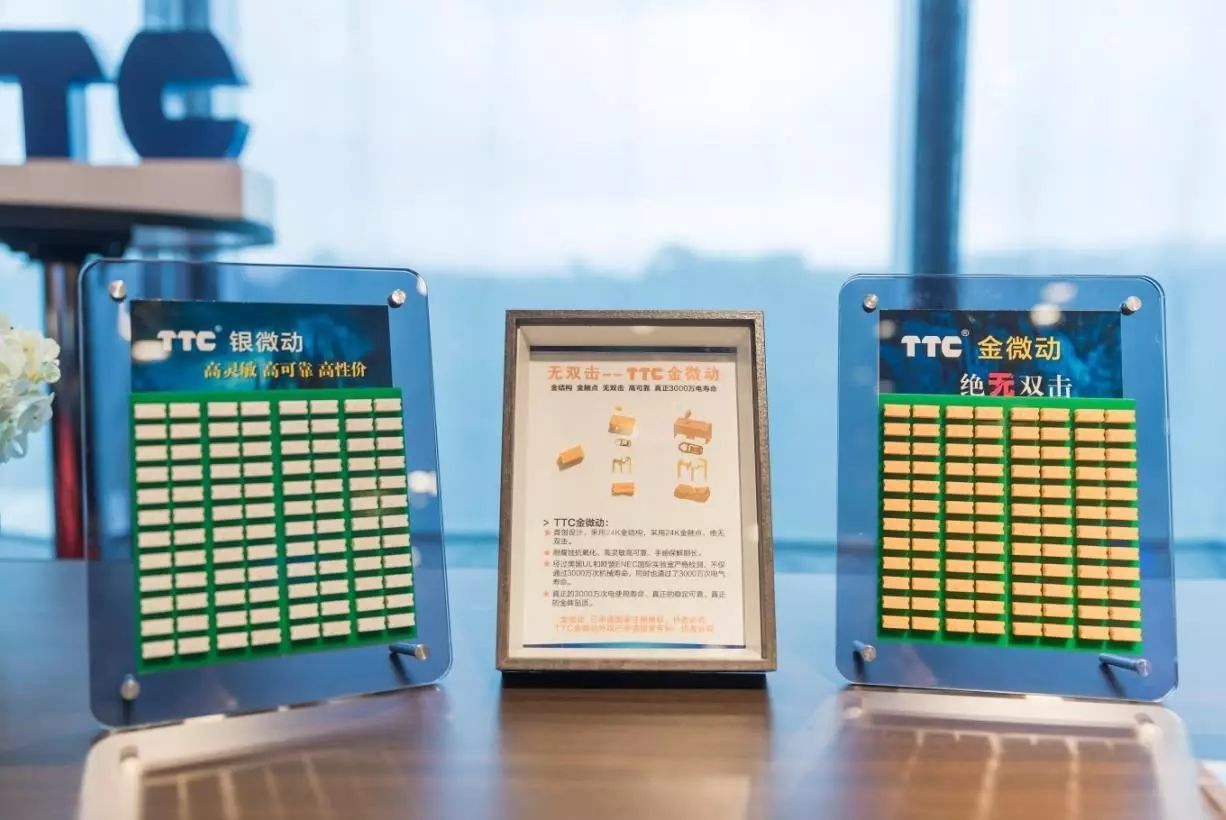 TTC golden micro switch is original designed by TTC, use 24K gold structure and 24K gold contact. Properties of gold is very stable and with great electrical conductivity. That's why TTC use gold structure, it achieves corrosion resistance and oxidation resistance, effective way to eliminate double-click problem.
TTC is not satisfied with just solve the double-click problem, we select the leaf spring material with strict reliability testing. Eventually we choose to use elastic memory metal material with lastest USA technology. Depend on TTC advanced production technology and rigorous QA system and testiong, achieve to high sensitivity, high reliability and long-period peservation of hand feeling.
TTC gold micro has pass UL and ENEC test, not only 30,000,000 cycles for mechanical life but also 30,000,000 cycles for electrical life
Mechanical life and electrical life
Mechanical life refers to the pure mechanical continuous conversion test done on the life test equipment without power on and without any load
Electrical life refers to continuous conversion test done on the life test equipment with electricity load. There are many profession factors during electrical life test, such as whether there are electrical pollution and electrical corrosion for button contact, or Whether the component load action changes the electrical contact reliability and so on.
TTC gold micro, 30 millions electrical life, with stability and raliability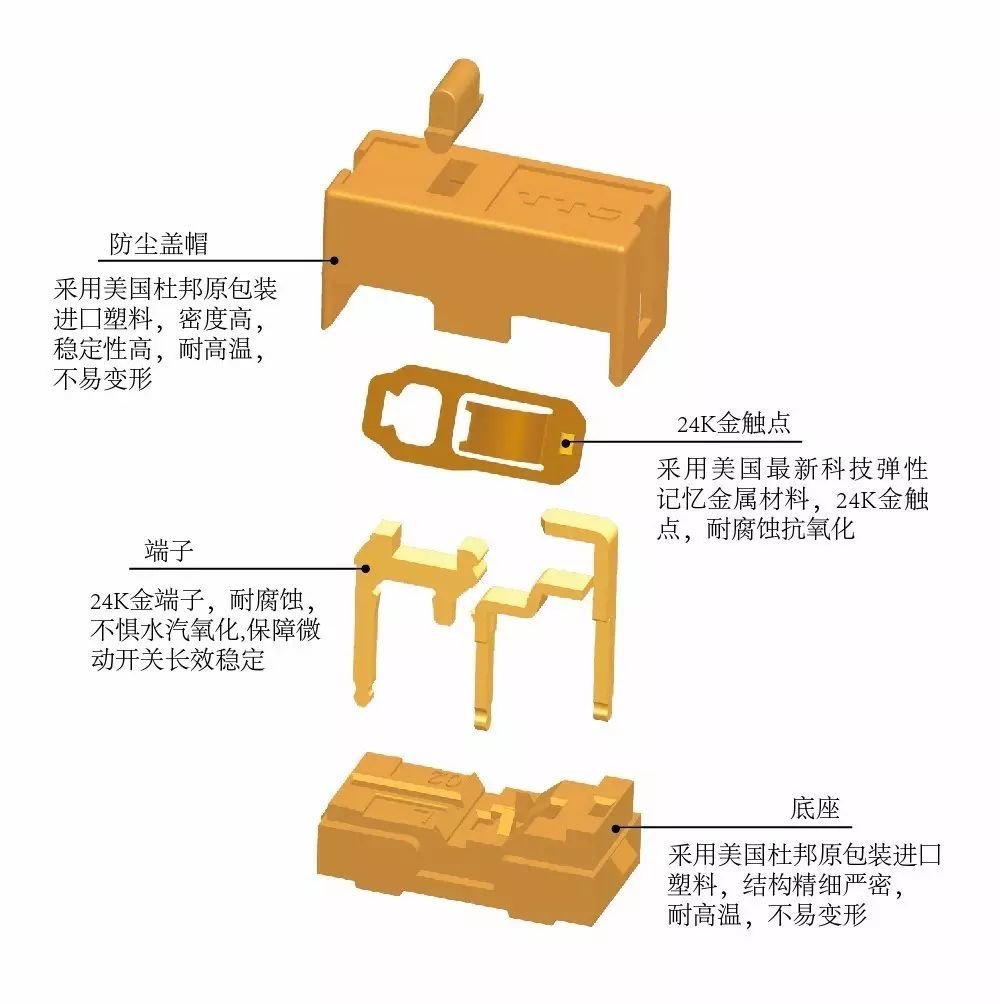 Following, let us have a summary for this attractive gold micro
Feature
1)Original design, gold structure and gold contact, no double-click
2)Corronsion and oxidation resistance, high sensitivity and reliability
3)Long period of perservation of hand feeling, 30 millions cycles of electrical life
4)Use imported material from US DuPont
5)Use elastic memory metal material with lastest US techonology
6)With UL and ENEC certification
We are more than that!
1. TTC® is China famous brand, we have quality garantee.
2. Gold micro has applied for international registered tradmark, imitation will be prosecuted, apperance of TTC gold micro already appliefd for China national patent, imitation will be prosecuted.
3. TTC has a group of R & D team with more than 10 years of professional experience, which can continuously develop and design satisfactory products for the majority of users
4. TTC can provide OEM service.