NEWS
Professional design, development and production of digital encoder, electronic switch and high and low voltage connector
Information classification >
Control the new environmental dynamics and respond to the high requirements of customers --TTC 2017 Supplier Green Environmental Protection Presentation conference was successfully held
In order to help enterprises understand the latest requirements of environmental protection laws and regulations at home and abroad, fully grasp the development trend of green manufacturing, and meet the higher requirements of TTC customers at home and abroad for products complying with green environmental protection, in the spring of 2017, We sincerely invited our partners to successfully hold the supplier green Environmental Protection Exposition with the theme of "latest environmental protection trends in 2017 and their countermeasures".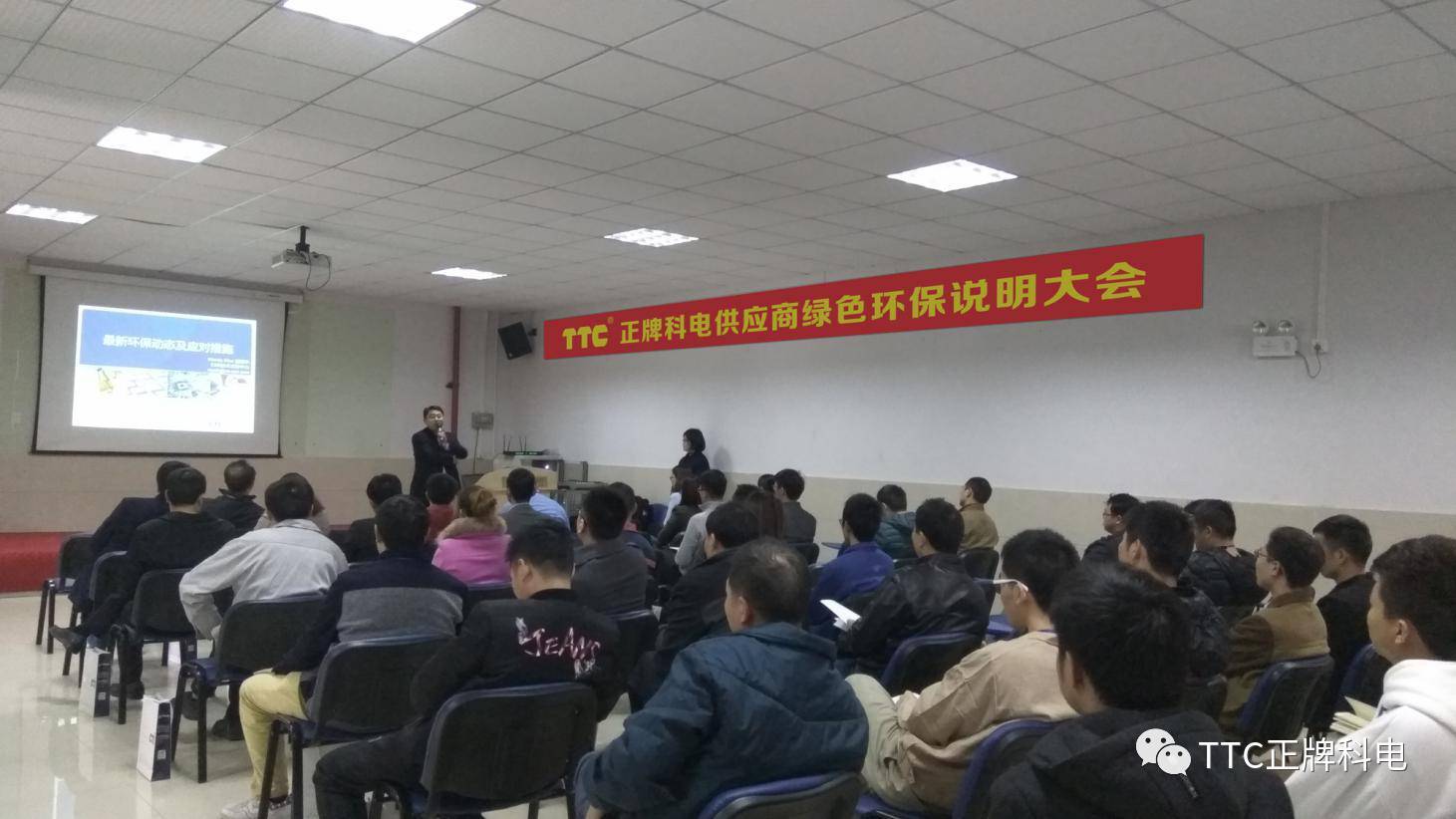 The conference was well received by our real partners, with nearly 80 major suppliers attending. The meeting began with a speech by Mr. He Jingbo, director of supply chain management, who thanked suppliers for their presence and support, briefly described several important development projects of TTC in 2017, and expressed the good vision of common development with partners. Then hu Changmin, the factory director and representative of the management, explained the purpose of the meeting, which was to ensure a green supply chain with partners and deliver safe and reliable products to customers.
After a brief introduction, the meeting was handed over to China's top authoritative testing organization - Shenzhen China Testing CTI environmental experts. CTI experts shared with you in detail the latest environmental dynamics in 2017 and corporate response strategies. In the last part of the meeting, the leader of TTC environmental protection group elaborated the TTC environmental protection standards and environmental control measures formed by TTC customers.
The supplier representatives at the meeting listened carefully to the above content and communicated actively on the spot. Suppliers have realized that the continuous update of environmental protection regulations will certainly have a significant impact on the management of hazardous substances in enterprises, and they have expressed their understanding and support for our environmental protection policy, and will implement the control measures. At the same time, several partners agreed that "such meetings enable us to understand the client's requirements well, which is also beneficial to our environmental control work."
With the further international development of TTC's customer base, environmental protection requirements are becoming more and more professional and rigorous. TTC believes that while implementing strict internal environmental control measures, it is particularly critical to do a good job in material source control and promote a sustainable green supply chain. TTC will work with our partners to deliver green and safe products and services to our customers and consumers, and to fulfill our corporate responsibilities for a green and sustainable global environment.
For more information, please pay attention to TTC's official weibo and wechat official account!