NEWS
Professional design, development and production of digital encoder, electronic switch and high and low voltage connector
Information classification >
work hard to improve the quality of craftsmen to promote learning through examinations and improve the effect of training
According to the 2017 management strategy of the company, in order to promote the ability improvement of management, engineering and technical personnel at all levels of the company, and cultivate their enthusiasm for independent learning. On the evening of February 28, 2017, huizhou real family electric co., LTD. (TTC) hr company in 2017 in the first game was held at the academic hall product knowledge test, each department research and development, engineering, business and quality management related personnel a total of more than 100 people took part in the exam, which contains classes of middle managers, manager class above.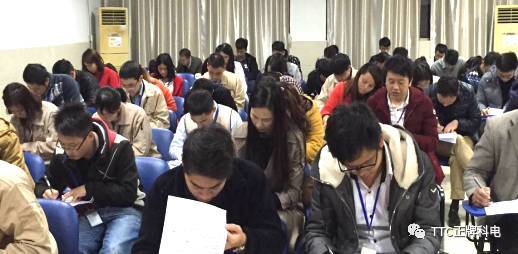 The examination papers are organized by the human resources department and senior engineers of r&d and engineering technology of the company are responsible for the questions, which are classified and integrated according to the products of each business division. The content of the paper involves mechanical keyboard switch, encoder, micro switch, strong electric switch, connector, quality testing, metal stamping and plastic mold and other fields of product knowledge. The examination will be conducted on a closed book, and fraud is strictly prohibited. The information related to product knowledge is not allowed to be brought into the examination room. The person in charge of human resources department will supervise the whole process of the examination.
Company leaders attach great importance to the product knowledge test, chairman Of Mr. Yu Zhengming said: "training is the transfer of knowledge, learning is for better progress. The product knowledge test is very necessary, and everyone should aim for a 100, not a 60 pass."
Senior hr also said: in 2017, our company will strictly put forward by the executive chairman of "cost, training, implementation, speed of eight" policy, push forward the training appraisal way, credit system will be training the assessment results and the worker's confirmation, promotion, performance, salary increase, such as direct hook, to build the culture atmosphere of company personnel to learn. The product knowledge test is just a good beginning for company training and learning activities, the follow-up of human resources department will further more rich and colorful training and learning, such as the knowledge contest, internal trainer talent competition, expand training, etc., let everybody autonomous learning in the happiness, meet the need of self growth at the same time, improve the level of expertise and product knowledge, Also to improve the overall strength of the company to make more contributions!