NEWS
Professional design, development and production of digital encoder, electronic switch and high and low voltage connector
Information classification >
Thank you for your love·2021 TTC 618 carnival·Mouse

The annual 618 online shopping carnival ended successfully. The day of Top 10 mouse sales brands have been unveiled, among of which, 7 brands are in deep cooperation with TTC.
Specifically, Logitech office and gaming mouse sales volume ranked No.1 and No.2 respectively. Razer gaming mouse sales volume ranked No.3. MI mouse sales volume ranks No.4 (office type). Lenovo mouse sales volume ranked No.6 (office type). SteelSeries mouse sales volume ranked No.8. And Dareu gaming mouse sales volume ranked No.10.
In addition, Roccat, Hyperx, Corsair, AKKO gaming mouse are also in good performance and very popular.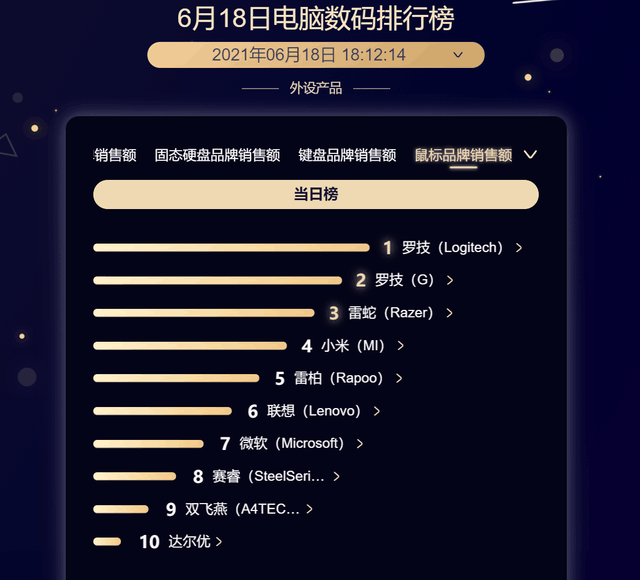 TTC Keyswitch, Encoder and Micro Switch are its three core parts with elaborate design and manufacturing for gaming keyboard and mouse kit.
TTC's innovation and development comes from the love and support of all users. Every glory and progress is the encouragement of all users and the crystallization of win-win cooperation with so many cooperative brands. We would like to sincerely thank you. Thank you for your love!
1、Logitech
Logitech is the world-famous computer peripheral equipment supplier and the world's No.1 mouse manufacturer.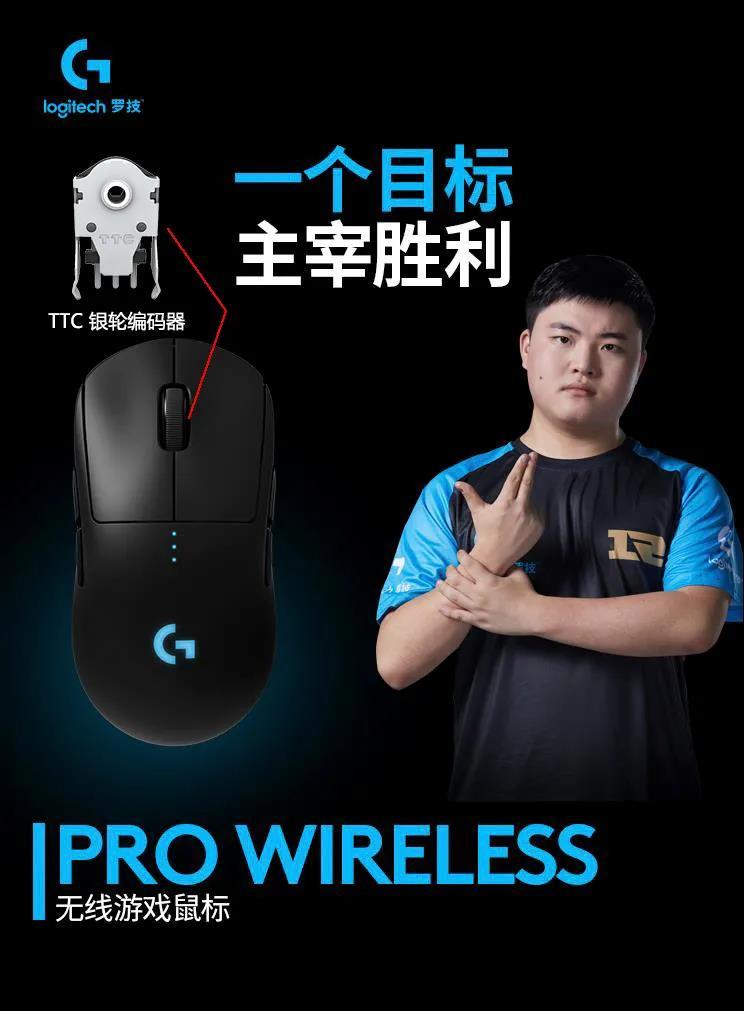 Logitech (G)PRO WIRELESS is a lightweight, low delay wireless mouse, specially designed for professional e-sports, equipped with TTC silver wheel encoder.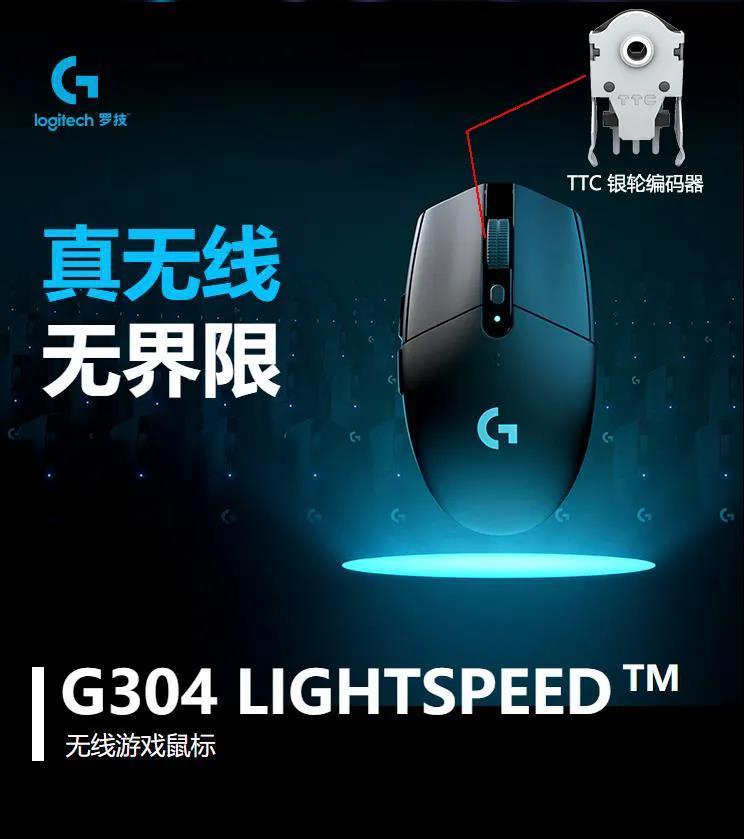 Logitech(G)G304 wireless mouse adopts Lightspeed ™ wireless technology, with 1 millisecond fast report rate (same to USB wired connection), provides excellent response speed and reliability, and equips with TTC gaming silver wheel encoder.
2、Razer
Razer is one of the largest gaming equipment companies in the world. It is synonymous with professional competitive equipment and a global player lifestyle trend brand.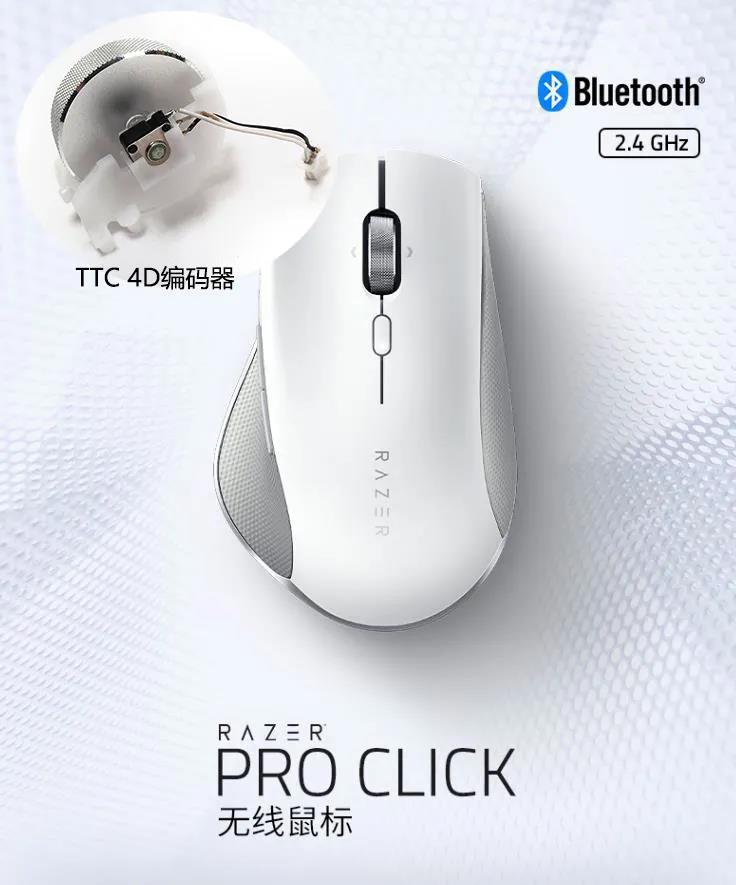 Razer Pro click is a Bluetooth 2.4G dual-mode wireless mouse, equipped with TTC international patent 4D module with wired encoder. Mouse wheel supports up & down scrolling and left & right rocking functions.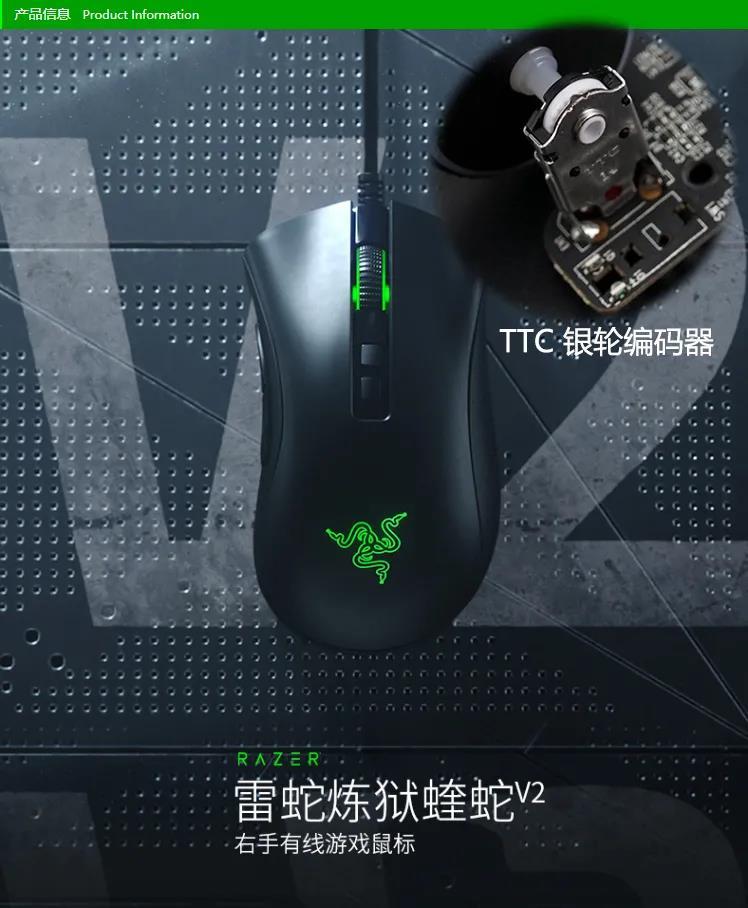 Razer Purgatory Viper V2 is a professional and award-winning gaming mouse equipped with TTC silver wheel encoder.
3、Steelseries
SteelSeries is born for games. Thanks to the cooperation, innovation and product development with top professional E-sports players, SteelSeries is one of the best equipment for E-sports events.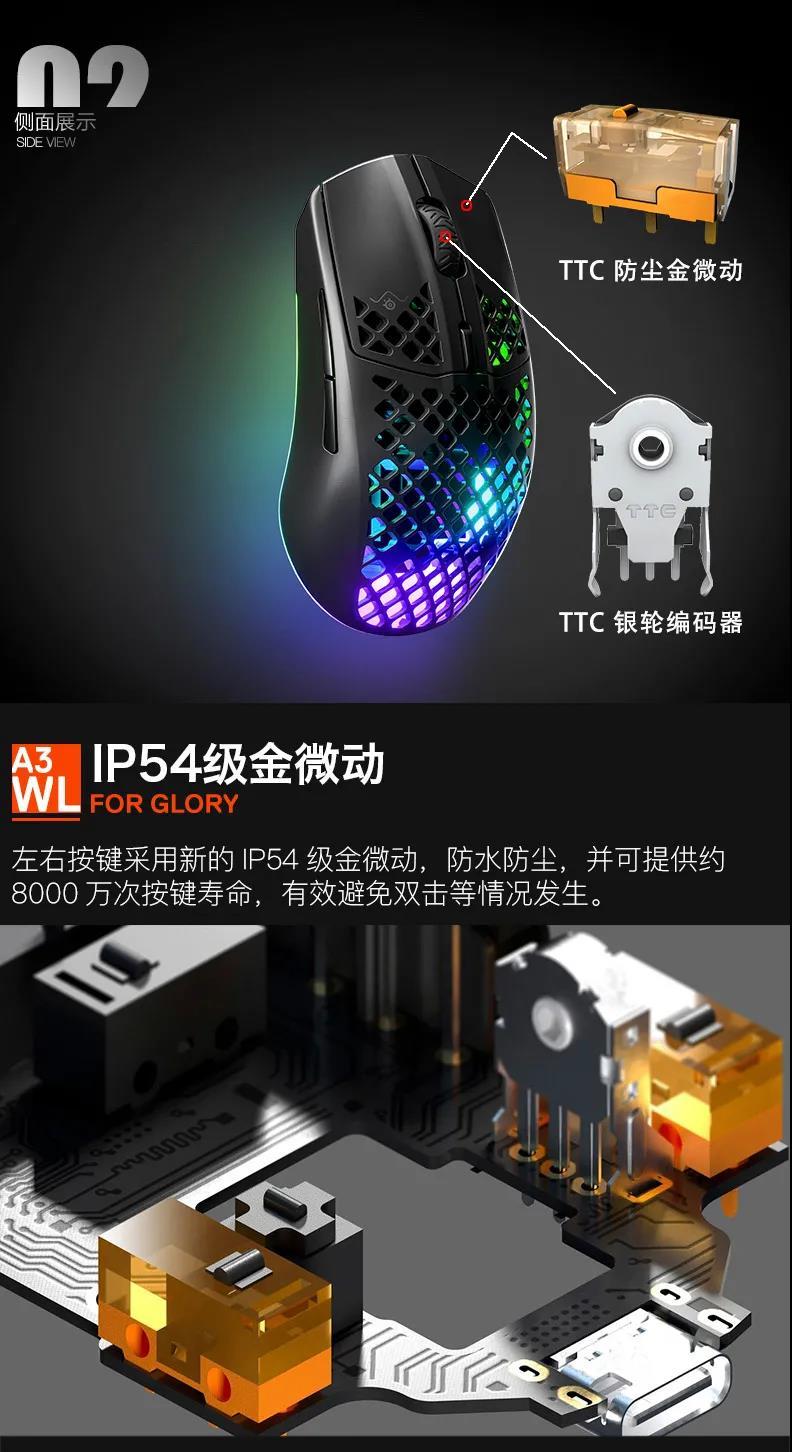 SteelSeries Aerox 3 is a gaming mouse with high lightweight design. Mouse left and right key adopt TTC dust-proof golden micro Switch with IP54 protection level, 80 million cycles, free of double-click and other issues.
4、Hyperx
Hyperx brand was founded in 2002 and is dedicated to be reliable products in top level performance. It provides excellent performance, quality and aesthetic design,always be the preferred equipment of world's top gaming players, technology lovers and overclocking players.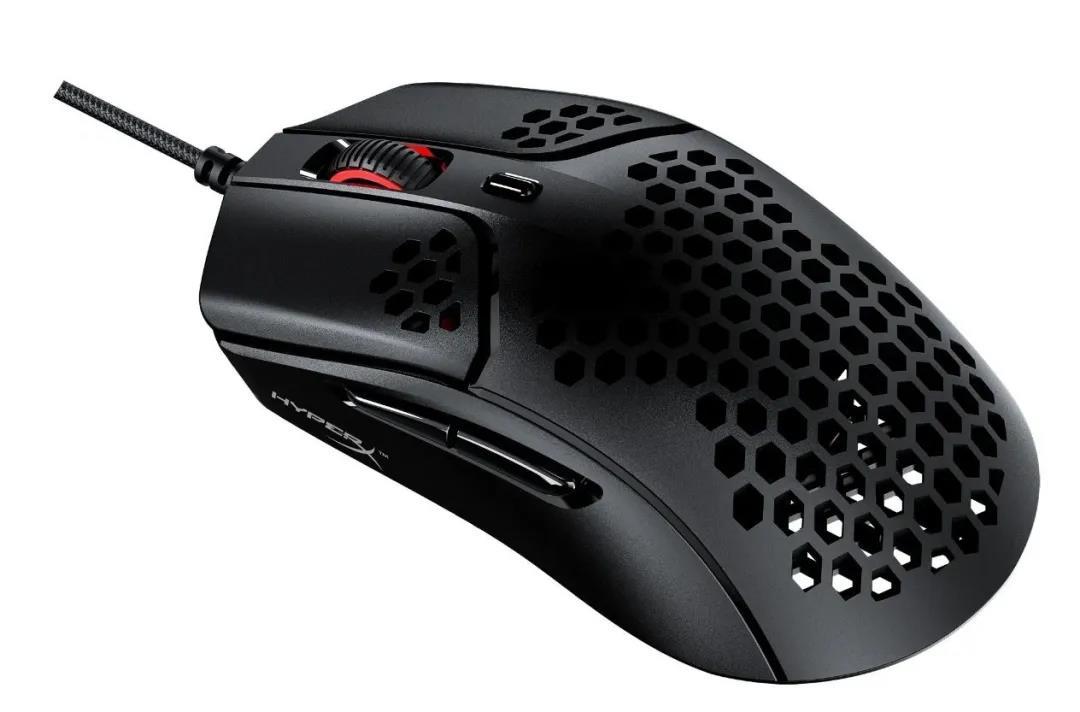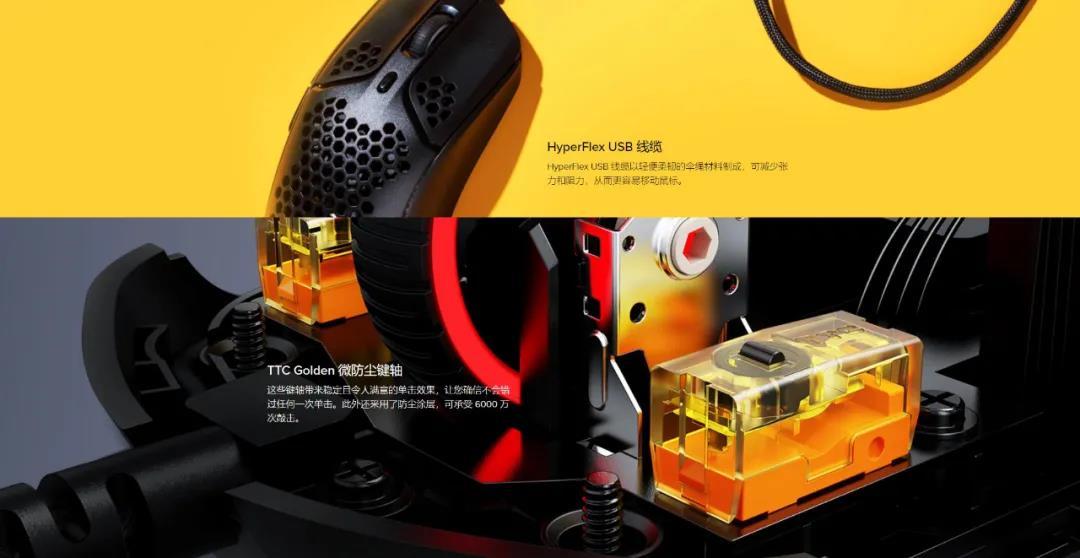 Hyperx rotary fire is a gaming mouse with ultra light hollow housing design, with only 59 grams overall weight. The ergonomic symmetrical design brings a comfortable grip feel. It adopts high-quality TTC dust-proof golden micro switch, with quick trigger, clear feedback, and can withstand long-term high-intensity click. At the same time it uses e-sports standard TTC silver wheel encoder, with clear touch, accurate scale, making the game in much more perfect command.
5、Roccat
Roccat is a leading brand of high-level professional E-sports peripherals in the world. Adhering to the brand concept of "Made to WIN", it meticulously refines the high-quality peripherals to meet the consumers' pursuit of game equipment, and has become a real leader of E-sports professional equipment.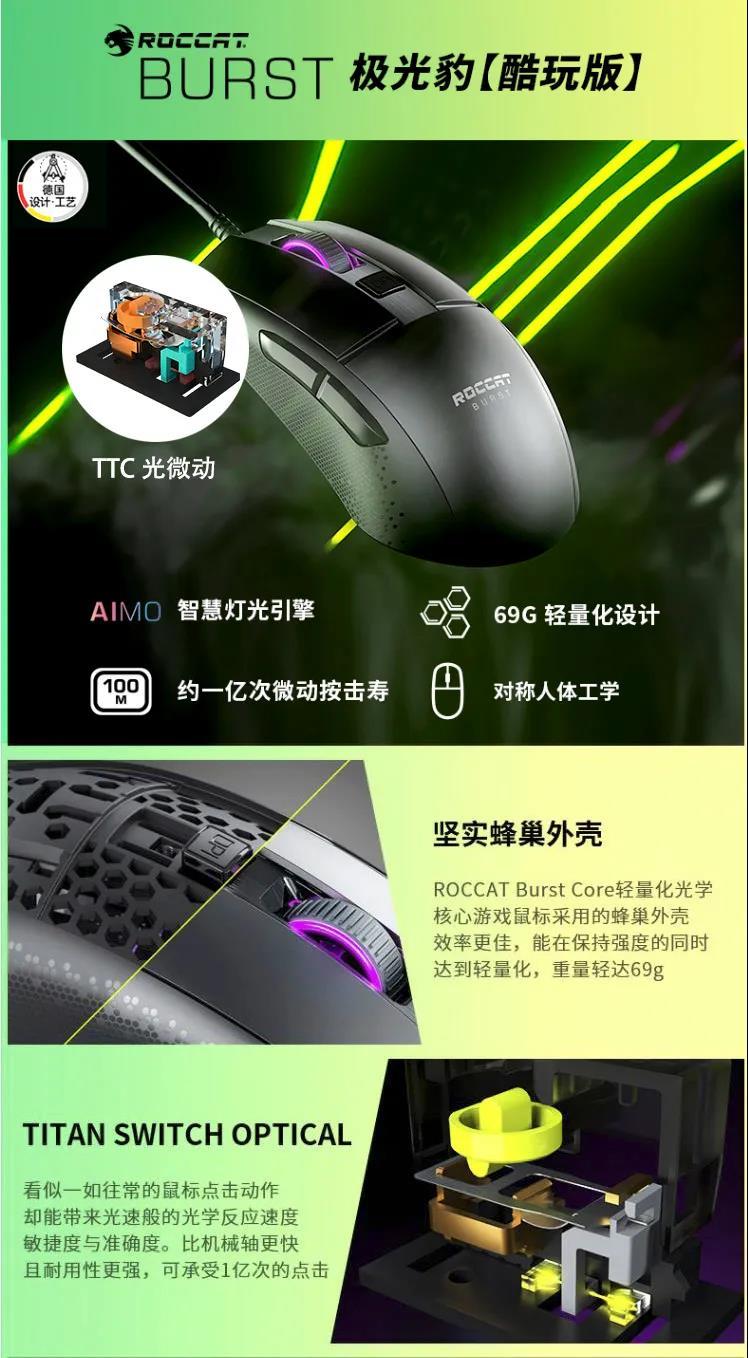 ROCCAT德国冰豹BURST极光豹 是一款69克轻量化的人体工学游戏鼠标,搭载与TTC联合开发的泰坦光微动,防尘设计,按键寿命高达一亿次。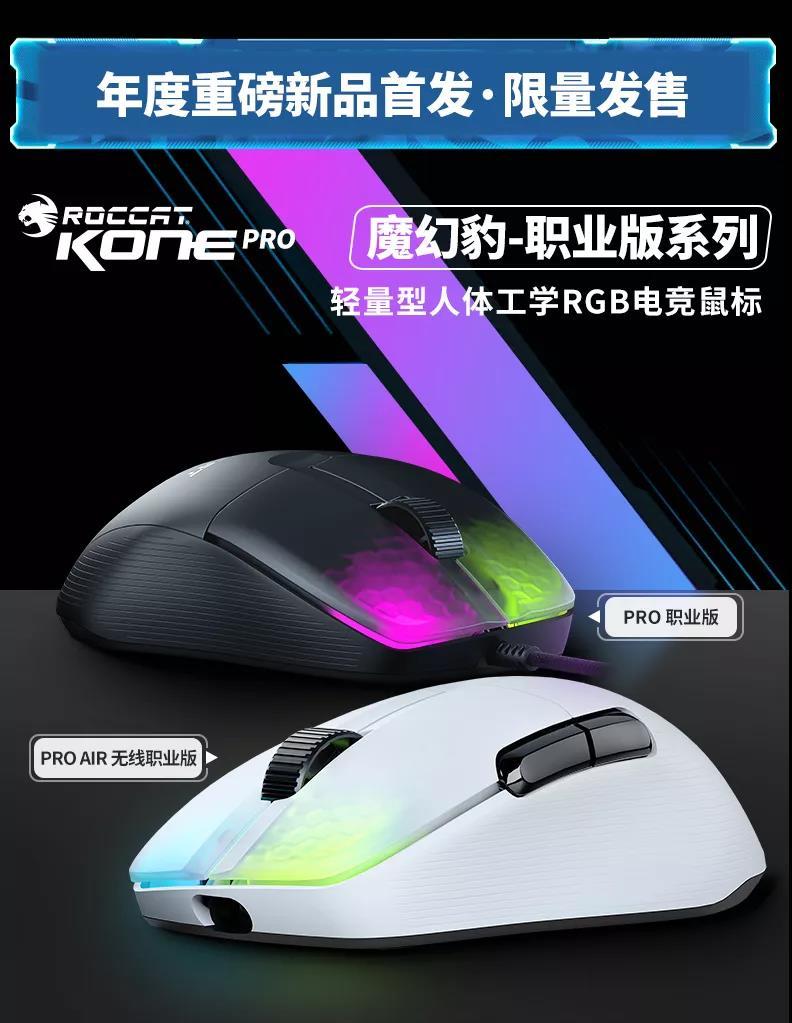 Roccat magic leopard also upgraded to Kone PRO AIR & Kone PRO, which also equipped with new customized Titan optical micro switch, dust-proof design, and life up to 100 million cycles.
6、Corsair
Corsair is a world-famous high-performance PC peripherals and components provider, and a world-famous game peripherals brand.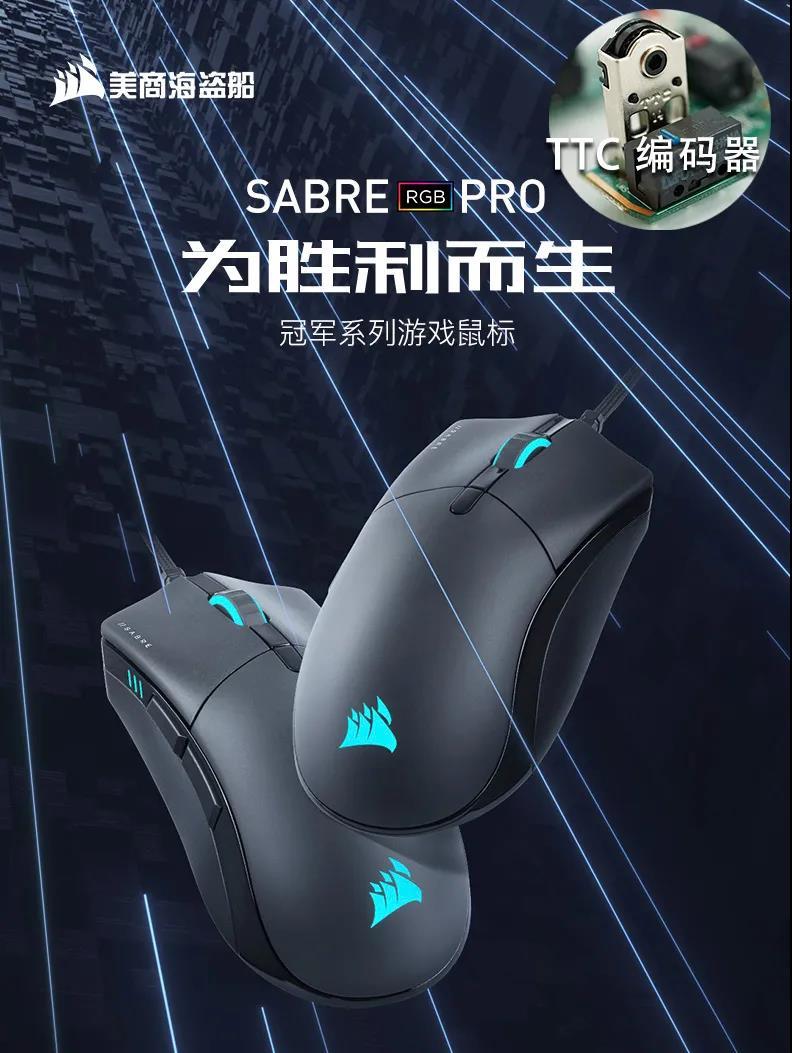 Sabre RGB Pro is Corsair champion series gaming mouse, 74g lightweight design, using TTC encoder.
7、DAREU
Dareu was founded in 2000. It is a well-known brand of gaming peripheral equipment in the industry. They found a comprehensive scientific research base through technical cooperation, and established Dareu Central Research Institute, equipped with international advanced software and hardware facilities, for full effort to develop core technologies.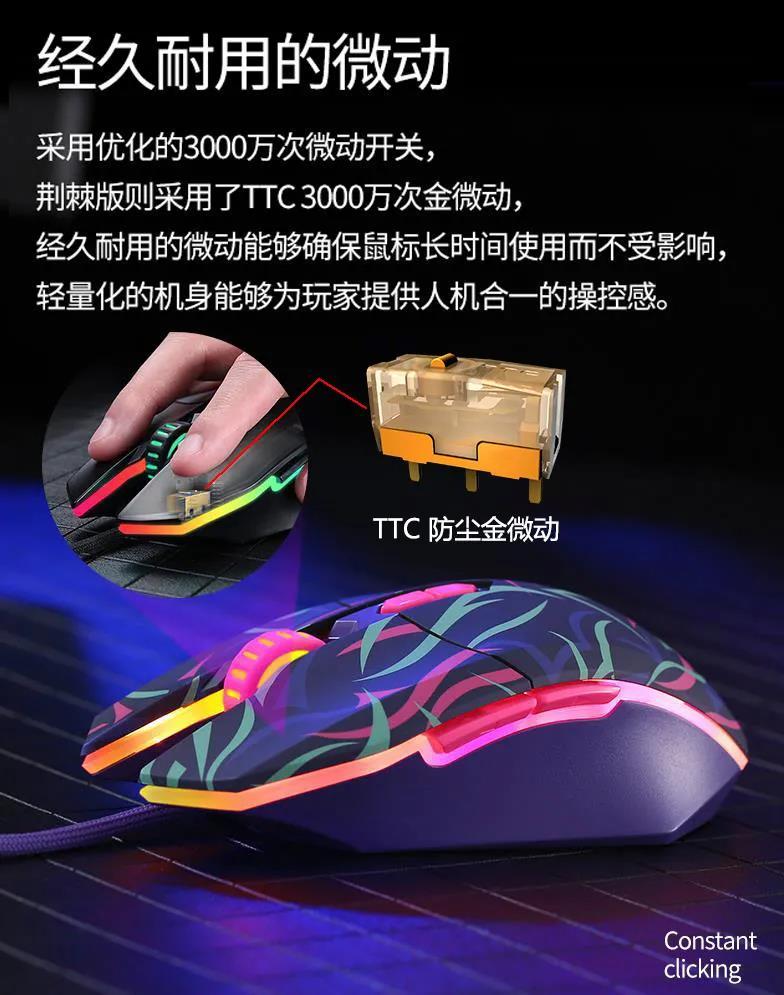 DAREU EM910 is a herdsman series lightweight gaming mouse, equipped with high-quality TTC dust-proof golden micro switch.
8、MI
Mi wireless mouse Lite, 2.4G wireless, integrated curved surface cover design. TTC red dot micro motion is used for left and right keys.TTC standard encoder is used for middle roller.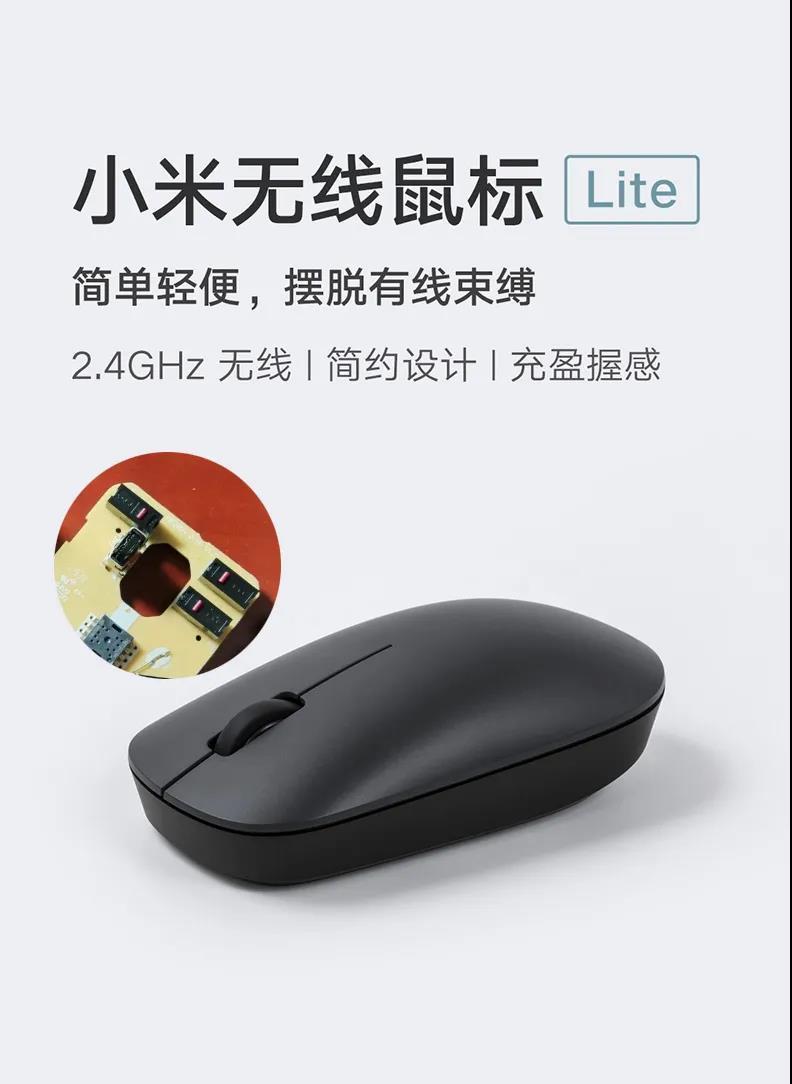 9、AKKO
Akko cat image created by "cat" and "skeleton" is ever-changing. It is good at combining the most popular elements and the hottest IP to show different forms. It makes peripherals and surrounding things more "trendy".Make Gamers Fashionable.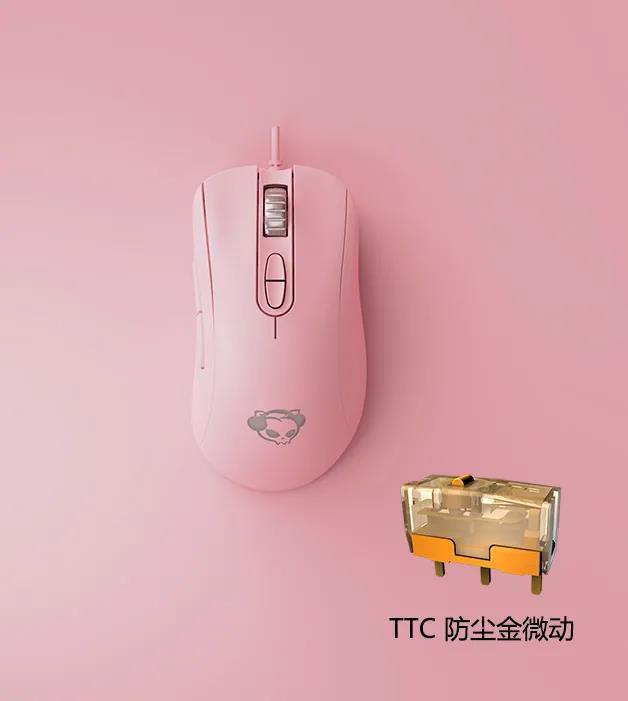 Akko RG389 is a right-handed gaming mouse with PMW3389 processor, 16000dpi resolution and high-quality TTC dust-proof golden micro switch.
10、G-wolves
G-wolves is mainly for gaming mouse, equipped with TTC golden wheel encoder and TTC dust-proof golden micro switch.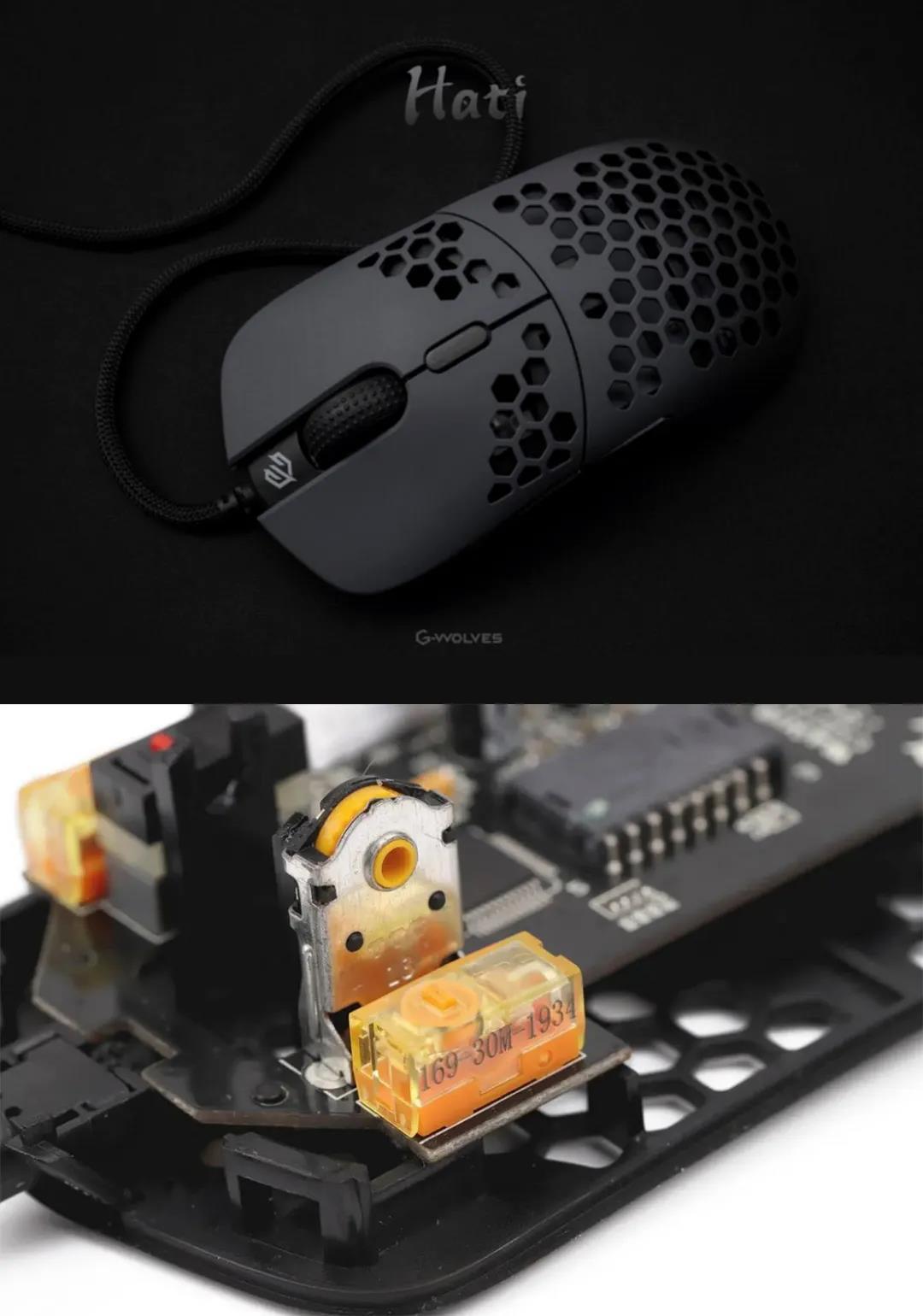 (The above ranking is in no particular order, and the relevant information comes from the Internet)